A South Korean woman who worked in Japanese military brothels during the war has called on Japan's prime minister to apologise to her and other survivors ofwartime sexual slavery when he visits the US next week.
Shinzo Abe is expected to touch on Japan's wartime conduct when he becomes the first Japanese prime minister to address a joint session of Congress on Wednesday, but there are indications that he will not repeat an official apology made by his predecessors.
"What we want [from Abe] is simple – an official apology and reparation," said 89-year-old Kim, who was first taken to work at a "comfort station" in Guangdong, China, and then to brothels in Hong Kong and several countries in south-east Asia. "He wasn't personally responsible, but he is Japan's prime minister and so it is his responsibility to put right the wrongs of the past."
Fearing ostracism in their own countries, most former sex slaves took their secret to the grave. But in 1991, a South Korean woman became the first to testify about her experiences in public. Since then, more than 230 women have identified themselves as former comfort women. Only about 60 are still alive.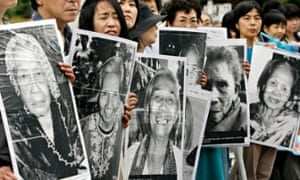 Abe has sparked fury in South Korea and China, whose leaders have accused him of attempting to sanitise Japan's wartime record. He has said he does not believe the comfort women were coerced by Japanese authorities, and questioned whether Japan's occupation of parts of China and the Korean peninsula could be described as an invasion. In late 2013, he made a controversial visit to Yasukuni, a shrine in Tokyo that honours 2.4 million war dead, including class A war criminals.
In a recent TV interview, Abe indicated that he would not repeat official apologies given by two of his predecessors when he issues a new statement to mark the 70th anniversary of the end of the Pacific war this year.
This week, 25 US legislators called on Abe to "formally reaffirm and validate" official apologies issued by Tomiichi Murayama to mark the 50th anniversary of the war's end in 1995, and by Junichiro Koizumi a decade later.
While he said he felt "deep remorse" over the war, during a speech in Jakarta on Thursday, Abe, has indicated he does not see the need to repeat two key parts of his predecessors' statements: a "heartfelt apology" for Japan's wartime conduct and an admission that it waged a "war of aggression".
Democrats and Republicans from the House of Representatives appealed to Abe to apologise in a letter to the Japanese ambassador in Washington, Kenichiro Sasase. They said they hoped Abe would use his war anniversary statement in August to improve relations with Japan's neighbours "through a vision of long-overdue healing and reconciliation".
Kim worked as a nurse at a Japanese military hospital in Singapore after Japan's defeat and returned to Korea two years later. "My country had been liberated, but I and other former comfort women are still waiting to be liberated," she said.
She said she was forced to sleep with about 15 soldiers on weekdays, and many more at weekends. She was beaten if she refused to follow orders and still takes medication to manage pain. Her work in military brothels left her unable to have children.
"I'm almost 90, but I don't know what love is. I was dragged off while I was still a girl," she said. "But I cannot die yet, there are things I need to do. I need an official apology. I need my dignity and honour."
"To deny that the comfort women ever existed is absurd," she said. "I'm here today as living proof that they existed. When Prime Minister Abe says there's not evidence … well I am that evidence.
Japan insists all reparations stemming from the war were dealt with by postwar treaties, and has refused demands by surviving comfort women to pay them official compensation.
The Japanese government initially denied the existence of military brothels, but in 1993 Yohei Kono, the then chief cabinet secretary, acknowledged and apologised for the first time for Japan's use of sex slaves.
Two years later, Japan set up the privately run Asian Women's Fund, which drew on donations, but most former sex slaves rejected the fund's because it did not come directly from the Japanese state. The fund was disbanded in 2007.